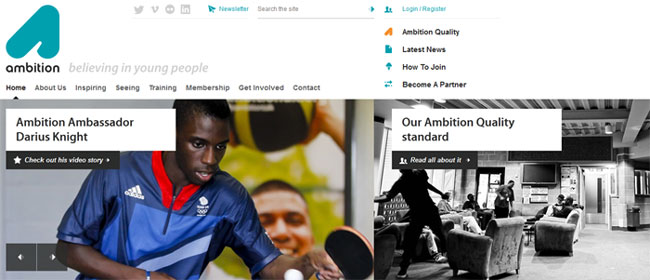 In 2012, Clubs for Young People – the UK's leading youth club charity, supporting leaders and young people all over the country with resources and training – rebranded, becoming Ambition UK.
I wrote all the copy for the charity's new website.
The challenge
The website had to inspire several audiences to take different actions to support Ambition UK.
I wrote copy to convince youth clubs to join Ambition UK and use their resources, to encourage people to donate to and volunteer with the charity and to highlight the importance of youth clubs to the government and other fundersto compel them to give money to Ambition UK.
The website had to be written in clear, easy-to-understand, web-friendly copy that would not only engage and persuade readers, but also rank highly on Google – not to mention fit their new brand.
The impact
A tightly-written, inspiring website Ambition UK can use to share their new brand and attract support for the charity from lots of audiences.
See my work
Take a look at the website www.ambitionuk.org