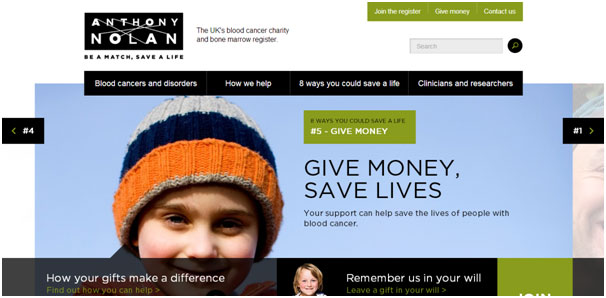 Anthony Nolan finds donors for people with blood cancers or disorders in need of potentially life-saving bone marrow or stem cell transplants. In spring 2013, I wrote/edited all the copy (more than 80,000 words) for the charity's new website.
The challenge
To write/edit more than 80,000 words of copy for all sections of Anthony Nolan's new website, with many different aims in mind, including:
To encourage 16-30 year olds to sign up to Anthony Nolan's stem cell/bone marrow donor register
To encourage pregnant women to donate their umbilical cord blood, rich in stem cells
To persuade people to fundraise for, volunteer for and donate to Anthony Nolan
To encourage corporates and trusts to work with Anthony Nolan
To provide expert, yet sensitive and friendly, advice, information and reassurance for people with blood cancer, people preparing for transplants and for people chosen as donors
To provide information for scientists on Anthony Nolan's research work
I met with each team at Anthony Nolan, from fundraising to corporate partnerships, to take a detailed brief for their section. I then wrote first and second drafts for their approval on a tight timescale.
I very much enjoyed working with Anthony Nolan's powerful message that by joining the register – or supporting the charity – someone could, directly, save the life of a person with blood cancer or a blood disorder.
The result
Strong copy that met Anthony Nolan's needs in terms of tone, language and content, compelling readers to take action.
See my work
www.anthonynolan.org