Bowel Cancer UK annual review
In 2011, Bowel Cancer UK wanted their annual review to tell the charity's story in engaging, exciting, impactful way – so funders and donors would feel compelled to give. That's why they commissioned me to come up with concepts for and write all the copy for the publication.
The challenge
To write a striking 12-page annual review that got to the core of the charity's impact and story – and wasn't simply a list of achievements and stats. We wanted readers to come away thinking Bowel Cancer UK was a dynamic, interesting organisation – that's worth giving money to.
I came up with three innovative concepts for how to structure the annual review, then wrote all the copy for the option the charity chose.
The impact
A short yet highly impactful annual review that Bowel Cancer UK are using as their main marketing document in 2011/12.
See the annual review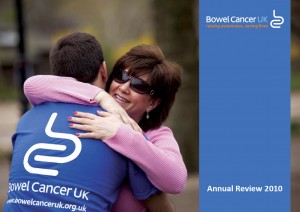 Bowel Cancer UK annual review