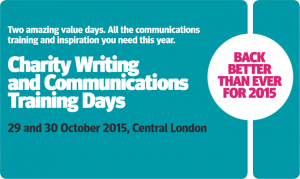 Were you one of the 170 people who came to the Charity Writing and Communications Training Days last month?
The two-day event, which I organised with the Directory of Social Change, was packed full of inspiring speakers, talking about everything from good web writing to producing the best charity magazines.
If you didn't make it, don't fear! I've rounded up 8 of the best tips on good charity writing that came out of the event.
"Be interesting or useful – it's not about you, it's about your audience"
People want to read things that are either interesting or useful to them, said Matt Haworth from Reason Digital. High quality, engaging content should be 80% something your audience will appreciate, and 20% about your organisation and your ask.
"Appeal on an emotional level – not rational, not statistics"
Julia Pitman, our keynote speaker from research and communications agency BritainThinks, explained that the most successful charity communications are based on emotive stories that people can relate to and which tug at their heart strings. Those that lead with rational arguments and figures aren't so effective.
"Case studies are the most powerful way to engage emotions"
Comms consultant Cath Drake highlighted that real life stories are the single most powerful communications tool charities have at their disposal – you can never use too many!
"I want [my reader] to know that […] so that […] should be the framework of your writing"
Before you sit down to write anything, fill in the blanks in this statement, and stick it on a post it on your computer. Keeping in mind who you're writing for, what you want to tell them, and why, will make your communication more focused, appealing and effective, said copywriter Matt Kurton.
"Read and rip off others"
We're surrounded by great content – and not just in the charity sector, said journalist and copywriter Matt Chittock. Make sure you read magazines, newspapers and online widely, and you'll find lots of inspiration for ways to present information for your organisation.
"Think about benefits, not features"
Whatever medium you're writing for, get into the habit of writing about the benefits, not the features, of your organisation's work, said writer Barney Jeffries.
That's the difference between:
"Our volunteer-run meals on wheels service delivers nutritious meals daily to 1,000 older people" (only mentions the features of the service); and
"Every day, 1,000 older people enjoy a healthy meal and have the chance to chat to one of our volunteers" (more powerful because it focuses on the benefits of the charity's work).
"A good email or e-newsletter has six key features"
Fran Swaine from Platypus Digital outlined her key ingredients for a successful marketing email: 1. Scannable 2. Front-loaded 3. Clear call to action 4. Cut out any unnecessary words 5. Headlines to break up text 6. Use active and actionable language.
"Ultimately few give without some kind of self-based consideration"
Direct mail expert Nick Day explained that when you're writing to ask someone to donate, you should try to include what's in it for them.
This could be anything from assuaging guilt or giving them the satisfaction of helping solve a problem they've encountered personally, to tax reliefs or fulfilling a sense of duty.
2016 event
Look out for the next Charity Writing and Communications Training Days in October 2016 – if you aren't already, sign up to my mailing list opposite to be the first to hear about our earlybird discounts!