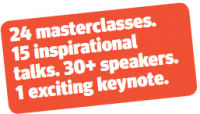 Come to the Charity Writing and Communications Training Days 2017 for all the communications training and inspiration you need this year.
You'll leave brimming with ideas and enthusiasm to generate more impact and more income for your charity – guaranteed.
Choose from practical, interactive workshops, led by the sector's top trainers and experts. PLUS, a programme of inspirational talks from charities doing innovative and exciting communications work, packed full of advice for your organisation.
You'll also have the chance to get one to one advice from our speakers and other experts, and to meet your fellow delegates in our all-day networking space.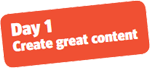 Make your writing powerful and effective, no matter what your medium
Put together a fantastic content strategy
Write brilliantly for the web
Create excellent e.newsletters
Put together brilliant news, features and press releases
Edit and proofread like a pro
Create compelling case studies
Use print, photography and visuals excellently
Write successful fundraising applications
Produce amazing annual reports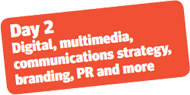 Do brilliant comms on a tight budget
Put together a first-class communications strategy
Learn how to tell brilliant stories
Make the most of film and other multimedia
Perfect your website and social media
Learn how to evaluate your comms
Master internal communications
Get more media coverage for your cause
More information coming soon